E Komo Mai (welcome) October! Over the years, people have asked me - "do you miss the changing seasons of the mainland now that you are living in Hawaii?"
Honestly, we have our own version of seasons here in Hawaii. Fall going into winter is my favorite season on the Big Island of Hawaii. The temperatures will start to cool as the winter approaches and everyone is enjoying family and holiday get togethers just like folks on the mainland. Although we don't experience the same kinds of fall colors that so many folks enjoy on the mainland, we do have our own version of vibrant fun colors in our flowers which are enjoying the extra rain.
The stores start to smell of pumpkin, spices & baked goods mixed with the smell of our local tropical flowers & fruits. And, as the temps drop, rain storms deposit snowy white caps on Mauna Kea & Mauna Loa. Yes! It does snow in Hawaii.
When I lived on the mainland, my daughter had to pick Halloween costumes to keep her warm or wear a coat - not as fun for her. Here in Hawaii the opposite is true - light, cool costumes are ideal. Some neighborhoods block their streets to allow a safe space for kids to trick-or-treat.
The world famous Ironman triathlon is coming up on October 14th. An amazing feat that the athletes perform each year - 2.4 mi. Swim, 112 mi. Bike, 26.2 mi Run!
Fall also means that school is back in session. Beaches & parks are a little more deserted during the week - a great time to sun yourself and relax enjoying the waves. Or, enjoy a picnic on the beach with friends & family and the sunning honu (sea turtle).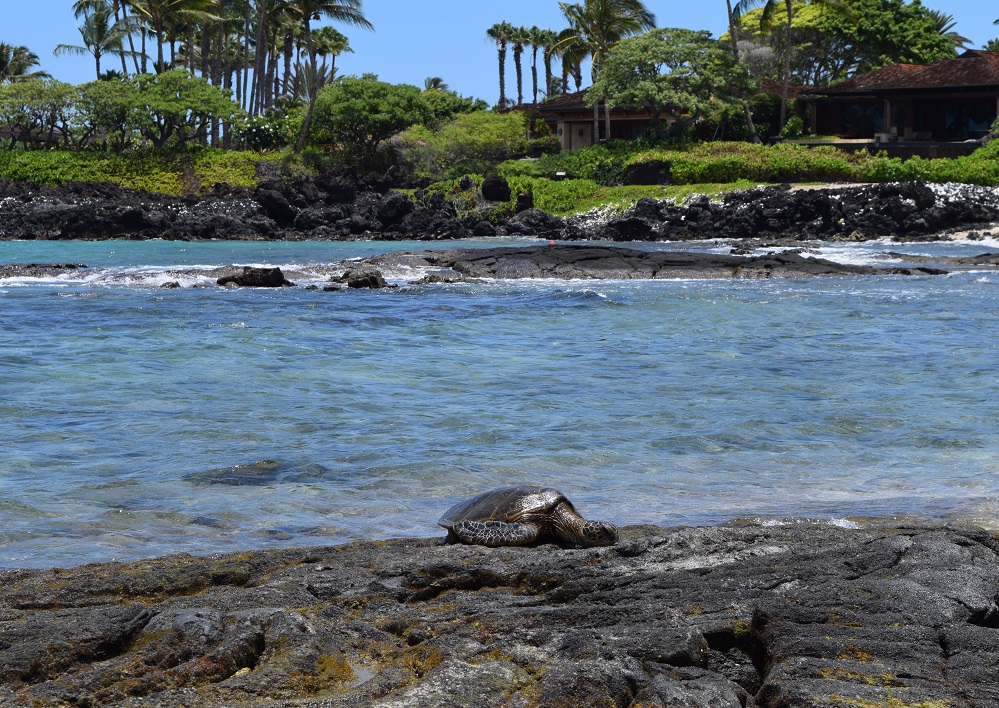 Bottom line - I love all the "seasons" that Hawaii has to offer. I especially enjoy spending this time of year with family, friends, ono (yummy) foods, talking story and starry, cool evenings.
If you'd like to learn more about living in Hawaii, please feel free to contact me - I'd love to "talk story" with you and see if living on the Big Island of Hawaii is a "dream come true" for you and your family!